Alpine Aviation – Testimonials
I moved from south Texas to Idaho to start training in March of 2017. After searching for flight schools I decided to go with Alpine Aviation. I did not like the lies I was getting from most of the helicopter schools promising jobs after completing of training. There's no way a flight school can push 100 students through a program and offer all of them jobs when there's only a small handful positions. I also like that alpine does not charge students high prices to pad the pocket of the 141 VA program! The training I received was very practical and geared for real life applications. While training at alpine I was able to take part in Unique training opportunities that presented themselves along my training. These opportunities include cattle mustering, corn pollination, coyote hunting, frost patrol and survey work.
Due to Alpine aviations size and location I was able to fly whenever I wanted to. I was able to take part in 50hr 100hr and annual inspections which allowed me to get a thorough understanding on the helicopter systems and how they work. Due to the instructor availability I was always able to schedule ground and
flights at my convenience. The flight instructors working here have all had real world
experience and can offer valuable insight during training that helped prepare me for transitioning to the commercial industry. I was able to establish contacts in the industry through Alpine which had helped me get to work with my commercial rating.
Alpine Aviations prices are extremely reasonable and are competitive. I didn't have to take unnecessary classes or go for any ratings I didn't need which saved me a lot of money. I was able to complete my commercial check ride at 162hrs and land a flying job back in Texas. The flight training is extremely practical and focused on real life application. The mountain home airport offers an amazing training environment where you can stay focused and train in peace without multiple aircraft tying up the radio
and interfering with training. I would recommend Alpine Aviation for anyone who is serious about being a career helicopter pilot.
~ Tanner Wayne Cude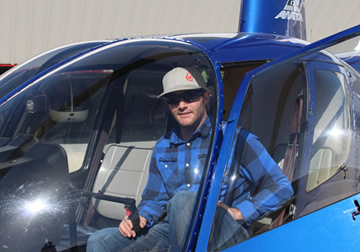 I started flight school at one of the "popular" schools that was providing VA benefits in Idaho. During this time I was unhappy with the level of instruction I was getting due to the amount of students being brought in and the disconnect between the instructors teaching real world flying. I was paying out of pocket so I wanted the best instruction I could get. I asked myself "How can a newly certified pilot who is just out of flight school know about real world flying"? Thats when I met Kevin Sielaff who is the owner of Alpine Aviation. He took me on one flight and blew my mind and it made me realize how much information I was missing. Needless to say I immediately changed schools and it was the best thing I could have done. I finished the rest of my certifications though CFII with Kevin. He teaches you about the flying you will do in the commercial world. Immediately after finishing my CFII I was hired in Texas doing hog hunting . The reason the owner in Texas hired me was because I trained under Kevin and knew my flying skills were above any other pilot coming out of flight school.
Kevin helped me start a small helicopter tour business in Colorado for awhile in which I was flying very high altitudes. Now I am a pilot flying a Sikorsky Skycrane heli tanker on fires in California with just over 1000 hrs. On my time off I still go work with Kevin and he still is teaching me new things. Kevin is adding new types of work to his company including agricultural spraying, predator control, tours, charter, and many other commercial avenues so that he can take his students and give them the employment needed to build flight hours. Other schools only give the possible hope of becoming an instructor, and when you don't get hired your left to get those hours yourself.
So if you are looking for your best possible chance to become a successful and safe pilot DONT GO ANYWHERE ELSE. Call Kevin and just chat. He is very honest, very hard working and willing to do everything he can to get you flying or get the job done. Hope to see you there in the future.
~ Alex Sewell
Like a lot of airplane guys, I wondered about flying helicopters. I was curious. I'd heard all the stories about how difficult it is to fly one of these machines. So I doubted that at the age of 68 I could do it. So me and my A pilot Andrew Southard where up in Rantoul, Illinois one day and spotted a flying school banner about a helicopter flight school. We inquired inside the FBO and the instructor took us out into the hanger for a 45 minute show and tell about how these gizmos work. Just a little later, we came back and started to fly. I was hooked right away. I could not get the smile off my face. What a huge amount of fun.
So we started commuting back and forth to this flight school. We tried to get in a couple of hours per week. We kept this up for about 10 months. Progress was slow because there was a lot of time between training flights. Sometimes we'd miss a whole week due to weather or schedules. In the mean time, I purchased a beautiful R44 Raven II. So I was serious.
I decided that in order to get through the process and get our ratings, we need to do training locally, at our place. That way we could fly as much as we could stand. That, by the way is no more than 2 one hour sessions per day. So, we arranged for Mr. Pafford from Alpine Aviation to come to Bowling Green, Kentucky and help us get our ratings. We put him up in a nice hotel and gave him a car to use. Four months later, both of us easily got our ratings. I mean easy.
The oral was a snap. We were both pilots already, so we only needed the oral exam and flight exam. No written. But we had to pretty much relearn VFR flight rules since we are both IFR guys. We were also very well prepared. James flew with us to the flight exam airport. We flew the site the day before. James researched the probable flight sequence. We were ready.
The oral was a 100%, no missed questions. My confidence was building, Then the flight exam was next.
That went smooth as well. I was ready for the maneuvers and carried them out with confidence and precision. Don't let anybody tell you you cannot do this. You can. And if I had to do it over again, I would have brought James to town first. That would have saved a lot of time and expense. Helicopter training is something you need to do on a regular basis.
Frequency of flight training is what will control how long it takes you to get rated.
Another side of the Pafford technique is his ground school. James has built his own study guide that will teach you everything you need to know about this side of flying. He has taken everything you need to know and condensed it to a single body of notes. This is hot to get through this part of the process.
If you are serious about becoming a helicopter pilot, this is
the way to get there. You'll be a great pilot. And flying helicopters is just a huge amount of fun too.
Bud Layne
CEO
Span Tech LLC
I'm a commercially certified ATP fixed wing pilot and was working on my Commercial Rotor wing add-on. James Pafford of Alpine Aviation was my instructor and I sincerely can't say enough awesome things about him. He is extremely knowledgeable, yet has a way of teaching that allowed me to be at ease and looking forward to our next training session.
I was struggling at first with aerodynamics and James quickly noticed that I learn better with the help of visual aids. He has a training manual that is second to none that takes all of the guesswork out of learning. This was HUGE for me!
Our flights were always centered around safety but he regularly reminded me that we were there to have fun. James genuinely cared about the quality of instruction and always gives 100%. Thanks to James, I was adequately prepared for my check ride and there weren't any surprises. I've had many fixed wing instructors, but none that I connected with as positively as I did with James. HE IS THE BEST!
~ Andrew Southard